Biofuels Digest Names USA BioEnergy #21 of the 50 Hottest Projects
The company is so proud to be selected as one of the 50 hottest projects in the advanced bioeconomy, beating out major industry players.
Biofuels Digest put out calls for votes for several months leading up to the Advanced Biofuels Leadership Conference (ABLC) held in Washington, D.C. at The Mayflower Hotel in March.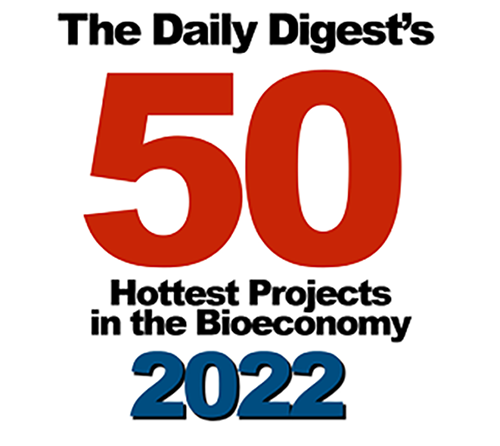 CEO Nick Andrews has been attending every Advanced Biofuels Leadership Conference twice a year for the last 4 years.
"We've made invaluable connections, learned about different technologies, and met vendors, suppliers, experts and offtakers at these conferences. Jim Lane knows the industry better than anyone and does an incredible job of keeping everyone up to date on the latest news and developments," stated CEO Nick Andrews.
"It's an honor just to be nominated among the largest developments in the country. To be selected #21 of the 50 hottest projects in the country is an incredible acknowledgment of our efforts," said CEO Nick Andrews.
Our mission is to be the world's leader in advanced biofuels and our first project is just the beginning for us. Ultimately, we will build 12 advanced biorefineries consecutively, which, at double capacity will produce nearly 1 billion gallons of sustainable aviation fuel annually.
About USA BioEnergy:
USA BioEnergy is leading the energy transition; developing a series of 12 next generation advanced biorefineries consecutively, specializing in the conversion of sustainably sourced wood waste into renewable diesel, sustainable aviation fuel, and renewable naphtha, using dependable, market-proven technologies. USA BioEnergy's biorefinery design features carbon capture technology to prevent green-house gas emissions from contributing to CO2 levels in the atmosphere. The fuels produced reduce emissions by approximately 80%. The plant in Texas will be developed under USA BioEnergy's subsidiary, Texas Renewable Fuels. The Company has recently announced that it had received state and local incentives in excess of $150 million dollars. The Texas Governor's office issued a press release announcing the incentives in support of the development of the plant, which will provide a significant investment in East Texas.
The company expects project completion in late 2025.